News
Hall of Masters Project at Hasbro Children's Hospital
The right kind of art in a healthcare setting can achieve more than beautification. It goes beyond decoration to become a true component of the healing environment, as much as a stethoscope or an antibiotic. While improving the aesthetic atmosphere, the arts also contribute to healing. Studies show that involving patients in artistic programs and activities helps the patient recover physically, emotionally and spiritually.
Hasbro Children's Hospital is an example of where a therapeutic environment was envisioned for children from the time the building was on the drawing board. A new project called "Hall of Masters," continues this vision in the Specialties Clinic where six notable Rhode Island artists have collaborated to transform the exam rooms with their interpretations of the works of three American "Masters."
The concept behind this project was to incorporate a famous work of art in a miniature scale onto a large canvas and then expand this work into a fanciful, imaginative painting suitable for a children's hospital.
Each of the three paintings will be hung inside an exam room in the Hospital's Specialties Clinic. The framed print of the original will be hung outside the exam room to create a museum-like setting in the hallway. The originals include works by Edward Hopper, Wayne Thiebaud and Georgia O'Keeffe.
The six artists involved with the project are members of the Art League of Rhode Island (ALRI), a nonprofit organization of Ocean State artists who work in a variety of media. The group includes, painters, printmakers, photographers, weavers, furniture designers and others. By participating in such an effort the artists were given the opportunity to give back to the Rhode Island community which has supported them over the years.
"The Hasbro project has been illuminating, informative and fun for me as an artist and as a member of the Providence community to feel that my work might be helpful in distracting a child who is facing some difficult health issues," said Mimo Gordon Riley "I am grateful to be a part of this project."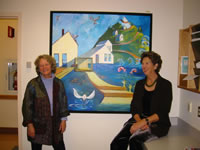 Gordon Riley worked with Gretchen Dow Simpson, (whose paintings have graced more than 65 covers of The New Yorker magazine), on their interpretation of an Edward Hopper painting, Rooms by the Sea. "Trying to look at the Hopper piece through the eyes of children was challenging," said Dow Simpson. "I am hoping that our painting will help people look deeper into a piece of art; to go beyond the frame in their own way if they so choose."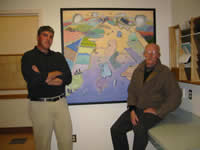 Jonathan McPhillips, who is vice president of ALRI, a painting and drawing instructor teamed up with ALRI member Peter Hussey to reproduce a Wayne Thiebaud painting, Flatland River. The two artists were able to incorporate an aerial view of Narragansett Bay by expanding on the original Thiebaud work.. "The opportunity to be a part of the tremendous collection at Hasbro Children's Hospital is a special honor" said McPhillips."I hope the painting evokes a feeling of levity for the children, staff and visitors of Hasbro.I also believe the piece will provide a refreshing look at the landscape of Rhode Island." Peter Hussey admits "I'm a colorist at heart, but have rarely taken the time to freely experiment with applying different hues in different ways. I believe I've gained some wonderful knowledge about color interaction and glazing that I am already applying to my watercolors, with very satisfactory results. I also appreciate Mr. Thiebaud more than ever."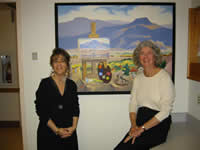 ALRI President Nancy Gaucher-Thomas joined forces with ALRI Advisory Board member Margaret (Peggy) Leeson to produce an interpretation of a Georgia O'Keeffe painting, titled Pedernal."Peggy and I chose Georgia O'Keeffe simply because there were no other women represented in the project. Her images are colorful and create a wonderful sense of space," said Gaucher-Thomas. "Working on this project allows us the opportunity to bring art through education into the community by joining contemporary artists with artists of the past."
This love to paint and the willingness to give back to the community has been the inspiration for this project, which was made possible by partial funding by, The Rhode Island Foundation and Rhode Island State Council on the Arts.
If you are interested in supporting this project please contact Paula Most at 401 444-3153; e-mail:pmost@lifespan.org or ALRI at 401 849-2053
Art League of Rhode Island:
Founded in 2000, the Art League is a nonprofit organization, which promotes excellence in the fine arts through education and exhibition. In addition to an annual exhibit, the Art League offers classes and workshops to artists and the general public. www.artleagueri.org
Rhode Island Hospital/Hasbro Children's Hospital:
Rhode Island Hospital is a Lifespan partner and a major teaching hospital for Brown Medical School.. Founded in 1863, it is a private, not-for-profit hospital and is the largest of the states general acute care hospitals. It serves as the Level 1 trauma center for Rhode Island and southeastern Massachusetts.Hasbro Children's Hospital is the pediatric division of Rhode Island Hospital, a Lifespan partner.This year marks the 10th anniversary of the hospital. The 87-bed facility provides a full range of medical and surgical care for children and offers the only pediatric emergency room and intensive care in the region.